Buyer & Seller Tools

Buying Property in the San Juans
If you have already chosen us as your real estate agency, you have accomplished the first step in the process of buying property in the San Juans. You may; however, find the rest of the steps of interest.
Select an Agent to Represent You
All of the brokerage firms on San Juan Island are members of the Northwest Multiple Listing Service; therefore, we can assist you with any of the properties listed with Coldwell Banker or other brokerage firms.
It is important for you to understand the Law of Real Estate Agency. Years back, Department of Licensing determined that most buyers felt that the agent represented them. However, the law at the time required all agents to be subagents of the seller, thereby technically representing the seller. It was for this reason that the State revised the agency laws to the current ones, which allow for three types of agency representation:
1. Buyer's representation is when the agent is representing the buyer and intends to obtain property at the lowest possible sales price.
2. Seller's representation is when the agent has a listing with the seller and is attempting to obtain the highest possible sales price.
3. Dual agency is when the agent shows a buyer one of their own listings and the buyer decides to purchase it. In the case of dual agency, the agent represents the seller as well as the buyer. Download a copy of the Law of Agency Disclosure to become familar with it.
Determine Your Source of Funds
Cash at Closing
Institutional Financing
Seller Financing
1031 Tax Exchange
If you intend to finance your purchase, it is prudent to meet with your lender and determine the maximum loan amount you are qualified for. This amount, coupled with the cash you have allocated, will determine the maximum sales price. We have numerous lenders that are active with financing in the islands if you are interested.
Determine the Type of Property You Desire to Purchase
One of the best ways to do this is to develop a list of your desired property features, and a list that details how you intend to use the property. Then prioritize those lists. For example, when we are working with a waterfront purchaser, we obtain the following information:
Is beach access required or is high bank OK?
Do you have a boat? Do you plan to buy a boat?
Bay protection or west side open with current?
Bay view or expansive wide open?
Do you want to be near crabbing and clamming?
Do you want to see the whales, boat traffic and/or sunsets?
Amount of trees, direction of sun exposure, and amount of privacy?
The responses received may direct me to property in different locations on the island. However, it may be that until you have an opportunity to view the various different types of properties, you may not be able to narrow down or develop your priorities.
Once determined, this information should be communicated to your agent in order for them to focus on the type of property that meets your needs, thus saving you time and confusion.
Educate yourself on the Market and Inventory
You need to become acquainted with our market and inventory level in the categories that hold your interest. Even if your purchase plans are sometime in the future, it is beneficial to take the time to view property with me because it will save you time in the long run. This process allows us to get acquainted, relate your preferences and develop your knowledge of the market. This will also help us to customize all future information sent to you. Buying property is a process of elimination. You will view many properties which you will determine are not suitable; then you will buy the one that is.
One way to monitor our market is to make sure you are receiving the Coldwell Banker San Juan Islands Quarterly Real Estate Market Updates.
Monitor the Inventory
You need to stay in touch with the inventory and market trends until the right time or right property becomes available. If you have viewed property with us or communicated your preferences, we will have established an account for you in our IDX and all new listings that meet your criteria will be emailed to you upon their origination. Purchasing property in the Islands can be a one day or five year process - which is totally subject to your time frame. If your property type changes and you need an amendment to your IDX account, please let us know.
Purchase and Sale Transaction
Once you have located the property you desire to purchase, we will structure a written offer to purchase containing the terms and conditions you have specified. The seller will either accept your offer as submitted or submit, through their agent, a counteroffer containing terms that are acceptable to them. Important elements that should be included in the Purchase Agreement under the feasibility study provision are listed below:
Archeological Sensitive Areas
You want to make sure that the property you are purchasing is not located in an archeological sensitive area such as Indian Midden or near a cemetery. If the property does contain sensitive areas, you need to know where they are located. To confirm this information you need to contact Annie Matsumoto-Grah at San Juan County at 360-370-7585. She will look up the property on their maps and confirm the results. The maps are not of public record so you may not access the information yourself. If the property is located within an Archeological Sensitive Area, you will need to obtain a report from an Archeologist. The Archeologist will perform a site inspection and delineate the sensitive areas and their setbacks. Should you desire to dig in those designated areas for any reason, such as new construction, a remodel or landscaping, you must hire an Archeologist to standby and sort through the material while excavation is in process in order to protect any items with historic value. The reports are approximately $1500-$3000 and if excavation is needed in the sensitive areas, the monitoring is on an hourly rate. It can add thousands of dollars to the cost of your project.
Corner Stakes
Do you know what you are buying? Corner stakes can be located or re-staked by local surveyors. Full surveys may be required due to lack of original plat stakes. The cost of a full survey will vary, but for a four-corner parcel it is typically in the range of $2,000-$4,000; setting just replacement stakes can be much less. We have several surveying firms available on the island and we recommend: Bob Wilson 360-378-4300 or Bob Anderson 360-378-5072.
Feasibility Consultant
Some purchasers may want to commission a complete Feasibility Study that will respond to not only the existing conditions of a property, but also address the issues, if any, that may have to be satisfied to allow a proposed use of a property. Feasibility Studies can be one-stop reports; addressing conditions of the structures, septic and water questions. Further, a report on relevant land use codes that may impact the proposed use of the property can also be processed; i.e., a Vacation Rental Permit or Conditional Use Permit. Jack Cory from First Inspect Inc, 360-378-4900 or Cheryl Purnell Albritton 360-378-2066 offer package Feasibility Studies. The reports are in the range of $300-$5,000 subject to complexity.
Flood and Homeowners Insurance
If you are purchasing on the waterfront, chances are the Flood Zone Determination report will indicate that flood insurance is required. Not all properties need Flood insurance as the improvements are located above the Base Flood Elevation. For more information, please download our Flood Insurance Guide. Be sure to arrange for your standard homeowners insurance policy in the beginning of the process, don't wait until you are only a few days from closing as the process can take 7-10 days.
Permits
Was the home constructed under a permit and does it have a final certificate of occupancy? Was the home built under the "built by Owner" permit application and require a safety inspection prior to closing? You should obtain copies of the permits from the County Permit Center to confirm the permit status. If the home was build prior to 1976 no permit may exist which was at no fault of the owner. Our Permit Department was not formed until the middle of the 1970s. These homes are considered grandfathered-in and non-conforming. If you are contemplating new construction or a remodel, the current building codes and comprehensive plan can be accessed through the San Juan County web site. You can request a permit package or review the County's building requirements through their website.
Power
If you are buying unimproved property then you should confirm the distance from power to the proposed building site. OPALCO will provide you with the distance and you can obtain a bid from a local contractor for the installation. Installing through rock can be costly.
Seller's Property Disclosure – Form 17
Pursuant to State statute, all property owners must provide a seller's disclosure to the buyer. There are some exemptions to the law for Estates or Trustees. The disclosure is not part of the contract and doesn't provide any representations or warranties. Buyers should share it with the Home Inspector so they may focus on any issues that the seller has disclosed. Ultimately, it is up to the buyer to process their due diligence and confirm if the property is suitable and the condition is acceptable. Buyers should not rely on the seller's disclosures other than for informational purposes.
Septic System
For existing systems, it is prudent to obtain a copy of the "as built" filed with the County. This will indicate the number of bedrooms the system was installed for and its approximate location, which is helpful for future improvements or repairs. If you are purchasing an unimproved parcel, you should obtain a perc test, design and permit approved by the County. The permits have a validity period of four years and the cost is around $1,250. The two most commonly used designers are Jack Cory 360-378-4900 and Rick Petro 360-376-2762.
Septic Inspection
Per the Purchase and Sale contracts used on San Juan Island, the seller must comply with San Juan County Codes related to on-site Sewage Disposal systems (OSS). Seller is required to have the system inspected; pumped if needed, and install any required maintenance components required by the code. Typically, all costs for inspection, pump, and installation of maintenance components shall be the responsibility of the seller. Sellers typically pay $200 for the inspection, $600-800 to pump and maintenance components can run $300-$2,000. Generally, systems installed after 2000 are in compliance with maintenance components. We recommend Craig Starr 360-378-8060 or Ted at San Juan Septic 360-378-7255.
Setbacks and Buffers
You should review the Critical Areas Ordinance located on the County website. This ordinance will take effect in March 31, 2014 and will implements numerous setbacks that are actually restrictive "buffer areas" from wetlands, shorelines, and streams.
Structural, Pest and Dry Rot Inspections
It is highly recommended that all buyers obtain an inspection of the home prior to closing. The inspector physically examines all of the major components of the improvements and reports on their condition and recommends any repairs. For additional information regarding inspections and their benefits, you can contact one of our inspectors. The three most commonly used are Jack Cory 360-378-4900, Tim Hance 360-298-1163, or Darrol Scheffer 360-378-4969. The Home inspection fees are in the range $500-$600.
Title Report
Shortly after the seller accepts your offer, you will received a Preliminary Title report. It is imperative that you review that report for accuracy and question anything that is different from what was represented to you. You should review easements and encroachments directly with the Title Officer that examined the title and issued the report. The reports are complex and only the source is reliable.
Transaction Closing Process
Due to the number of remote purchasers and sellers, the majority of our closings are handled through email or the express mail systems. We have local escrow firms and title insurers. We regularly cooperate with off island escrow firms, lenders, and 1031 facilitators.
Water Source – Private Well or a Community System
Private and two party shared wells should be tested for quantity, bacteria and organic. A San Juan Short list is recommended. The cost for a bacteria and organic test will be approximately $300 including the sampling. Class A and B systems are community systems in which the quality and quantity are monitored on a regular basis as required by the County. These need not be tested, but their current "standing" should be confirmed through the County.
For more information regarding wells and water systems, you can contact one of the two commonly used well service providers: Denny Martel 360-378-2842 or Al Mauldin 360-378-6975. San Juan County Health Department can be reached at 360-378-4474. The County confirms that community wells are in "good standing" via email. In "good standing" is defined as current with satisfactory Bacteria and Nitrate reports and County inspections.
Wet Lands
You need to determine if the property you are purchasing contains any form of wetlands. Pursuant to the Critical Area Ordinance update, all wetlands have some sort of buffer that must be respected. There is no sure way to confirm the land contains wetlands without a professional wetlands expert.
You can start by viewing the County's wetland maps and note if the property is located within a designated area, but that is not a formal confirmation and not reliable. If you are suspect, you can request a site inspection from the County or hire a wetland expert. Once you determine that you have wetlands on your property, you need to have the area delineated and the wetlands typed and surveyed so that the required buffers, based on type, can be honored. The fee range for the survey and delineation is $1,000-$10,000 subject to terrain and site difficulty; most site fees run in the range of $2000-$4,000. We recommend Scott Rozenbaum from Rozewood Environmental 360-468-4448 as a wetland expert.
Conclusion
This article is for informational purposes and not meant to encompass the entire process. Hopefully the article doesn't make the purchase process sound intimidating but no worries as we will guide you through the steps and issues.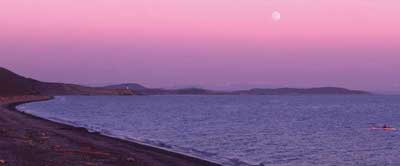 Recommended Procedures for Sellers
One of the first steps we recommend in selling real estate in the San Juan Islands is to select an agent to represent you. Ideally you should select ONE agent that you feel will provide you with the level of customer service that you require. Coldwell Banker San Juan Islands has an agent who would make an ideal choice.
It is important for you to understand the Law of Real Estate Agency. Several years back, Congress interviewed hundreds of buyers to determine if they thought their agent represented them. In most cases, the buyer believed that the agent did represent them; however, the law at the time required all agents to be subagents of the seller, thereby technically representing the seller. It was for this reason that Congress revised the agency laws to the current ones, which allow for three types of agency representation:
Buyer's representation is when the agent is representing the buyer and intends to obtain property at the lowest possible sales price.
Seller's representation is when the agent has a listing with the seller and is attempting to obtain the highest possible sales price.
Dual agency is when the agent shows a buyer one of their own listings and the buyer decides to purchase it. In the case of dual agency, the agent represents the seller as well as the buyer.
Download a copy of the Law of Agency Disclosure to become familar with it.
Review Marketing Plan
Coldwell Banker San Juan Island's marketing program is extensive and provides full brokerage services. It offers several exclusive features including the Coldwell Banker International presence. As a member of the Coldwell Banker franchise we enjoy international brand recognition and agent tools including exclusive publications geared to market island properties. More than 3,300 offices nationwide means buyers know Coldwell Banker's reputation.
Coldwell Banker San Juan Islands leads our local market. Please see our "20 Reasons to Choose Coldwell Banker San Juan Islands" for more details. Your agent will prepare a complete marketing plan customized for your property. This will be presented to you at the same time your Competitive Market Analysis is reviewed. Review the Competitive Market Analysis
A competitive market analysis ("CMA") is an opinion of value produced by a Coldwell Banker San Juan Islands Real Estate Expert. When considering selling, one of our professionals will prepare a CMA upon request to assist you with the valuation of your property. The Coldwell Banker Real Estate Expert will evaluate the property by reviewing all recent property sales and determining the market value of a typical sized property factoring in square footage, number of bedrooms, amount of land, size of view, waterfront, etc. Our islands can make this process a challenge as most of our properties were improved as owner designed construction and so made very custom; finding similar properties can be difficult.
In addition to reviewing recent sales, adjustment factors may need to be applied such as current and forecasted market demand, the appreciation calculation, the cost approach based on present value of each component, the amount of comparable properties currently available and the subject property's special features. Completing the CMA allows the Coldwell Banker Real Estate Expert to develop an opinion of the value; this is part science and part art. That is why it is imperative to select an agent such as one from Coldwell Banker San Juan Islands, as we offer the experience and track record to support our conclusions of value.
Consumers should be cautious when using on-line home value estimators as they do not function very well in San Juan County. These systems assume that the properties are all similar, but as mentioned above, properties in our islands are very unique.
Pricing of the Property
Fair market value is the highest price an informed buyer will pay for a property offered for sale. A primary reason that sellers hire full service REALTORS® is for their experience and expertise which can result in obtaining the highest price for their property.
The purpose of our Competitive Market Analysis (CMA) is to assist you in determining the listing price. After reviewing current inventory and similar properties that have closed, you need to set the selling price you are most comfortable with based on your needs.
Some sellers choose to set their price ahead of the market. Due to their level of motivation, they understand and accept an extended marketing period. Here we explain why this is not the best decision: Qualified buyers will purchase the property that they perceive to be the most suitable and best priced from the selection available. It is for this reason that the list price should not be above market value. Properties priced properly typically sell within 30-60 days and for a higher percentage of the list price when compared to those properties that are on the market longer. This can be attributed to the level of activity when a property is first listed. Typically, agents notify their buyers as soon as a new listing originates. It is known that when properties first enter the market, sellers are less likely to negotiate on price. If the property is priced too high, buyers perceive that the seller will not be willing to negotiate down to a more appropriate market price and the result is lack of interest.
If the seller reduces the price at a later date, it may not bring back the buyer's interest. In fact, the buyer may be lured away from the higher priced property as its pricing convinces them to purchase a different property that they perceive as a better value.
Properties on the market too long may also become "shopworn". The first few questions that most buyers ask when considering a property are: Price? Days on market? And why is the seller selling? Today's buyer has a high level of sophistication that includes educating themselves on our market prior to their actual purchasing experience. This allows them to make an informed purchasing decision. It is unlikely that buyers will pay more for the property than they would have paid for a similar property. In the end, over priced properties tend to help sell the competition.
Net Proceeds Calculation
Review your net proceeds calculation based on the recommend price range given by your Coldwell Banker Real Estate Expert. This calculation will estimate your net funds after paying all costs of sale, but not paying off your indebtedness or real estate taxes if any. Remember, your personal net proceeds requirement does not dictate the market value for your property.
Your Decision
The decision of whom to list your property with should be based on local knowledge and experience. This includes marketing, negotiating, transaction management and closing & follow up, which should not be underestimated. This is really where Coldwell Banker San Juan Islands excels. We are able to obtain the highest sales price for our sellers because we have more experience in negotiating transactions than any other firm in our area and because we have maintained the largest market share of listings and closings for nearly 50 years. It is this experience during the transaction that can make the difference.
Real estate brokerage is a performance-based industry. Clearly, not all real estate companies are alike. Results will vary dramatically based on a variety of factors, including the experience and track records of the professional you select. Choosing representation based solely on discount, rebate or another cash back scheme may seem like a good idea at first glance, but that is not always the case when all is said and done at the closing table.